Happy winter solstice – if happy is what you want to call it. It's been another rough week. Earlier this week the Republicans rammed through a disastrous tax bill that will (among many other bad things) give special tax breaks to pipeline builders, Arctic drillers, and other assorted fossil fueled ne'er do-wells.
As I write this, they're voting through a short term spending bill without doing anything about the DREAMers – who are at risk of being deported every week Congress refuses to act. All week long brave young people have risked arrest and deportation just to demand Congress vote on the issue. They shut down the Cafeteria today, in solidarity with seven other activists who went on hunger strike in jail. And still, Congress lacks the courage to protect people, not polluters.  
One other wrinkle to this week's tax bill that you might not haver heard about: The #GOPTaxScam effectively eliminates the tax deductibility of charitable donations, removing the incentive for most people to donate to groups like us. I know that a lot of you will still donate because you care about the mission, not the tax break. But no less than New York Attorney General Schneiderman estimates groups like us could lose $20 billion in 2018 alone.
Can you chip in to support our work before these stupid new rules take effect so we (and you!) can afford to support climate activist?
Here in the darkest hour, it's also worth remembering the lesson of the solstice: that darkness and light move in cycles, and just when it can't get any darker – the light starts to come back.
So here's 4 short gifs to tell you how we're brining the light and heat to the Climate Justice movement in 2018:
The Thomas fire around Los Angeles is almost out now, which means it's time to rebuild. Click here to support our plan to build a mobile ClimateDisaster response unit with partners in 2018 so we can be ready for what's next
It wasn't just California of course. Much of Puerto Rico is still without power and the death toll hundreds of times worse than the Trump Administration admits. We need to build local resiliance and resistance efforts from coast to coast to coast (there are three in America – Pacific, Atlantic, Gulf). Click here to chip in to support our local community building efforts in 2018.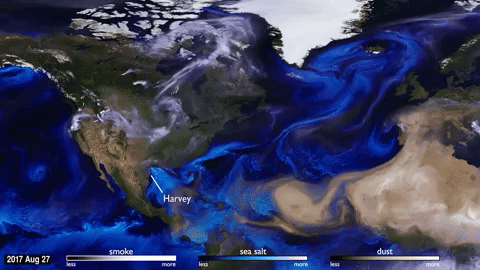 If fire and water aren't enough to get your elemental on, how about some atmosphere? Here's a time lapse showing how carbon Dioxide moves in our atmosphere – if you look close you'll notice that the rainforests in the global south act like a pair of lungs, constantly inhaling carbon and exhaling oxygen. But the global north is like a chain smoker, filling the shared resource of our atmosphere with more than our share of (red) Carbon and other global warming pollution. Click here to support our work to slash pollution, stop the expansion of fossil fuel infrastructure, and build out 100% clean, green energy here in North America.
Finally, today is a good day to donate because it's the solstice. The longest night which turns into a long series of lengthening days, each one a little brighter than the day before. For the next six months we'll be traveling the east coast – meeting up with frontline activists in the Carolinas, Virginia, DC and points north. We'll keep a watchful eye on the Bayou Bridge and Keystone XL Pipelines – which thousands of us have signed up to show up and block, if and when we're asked by local leaders.
One big thing w need to get ready, set, and rowdy for is California Governor Jerry Brown's big international meeting next September. A lot of Governors, Mayors and other "sub-national" elected officials are expected to show up and talk about climate change, but action is less certain. Just like the Paris Climate Summit 2 years ago – a lot of what is decided in those rooms will hinge on action outside in the streets:
Do we demand a target that protects the most vulnerable (closer to 1.5C and serious action by 2020, instead of 2C and 2050)? Do leaders enact binding action, like state, county, an state-wide bans on new pipelines and fossil fuel infrastructure; Or do we let them get away with another promise to do better? Are conversations lead by communities on the frontlines that are poor, led by People of Color, and otherwise hit first-and-worst by climate impacts; Or does former-Mayor Bloomberg talk about sea walls in Brooklyn, while JP Morgan Chase is talking about not funding pipelines someday. (hint if Bloomberg and JP Morgan Chase are talking, the conversation is not about climate JUSTICE, even if it is about climate CHANGE).
So click here to chip in $1.98, $19.80 or whatever you can afford to help us get ready for 2018. Because today may be dark, but it only gets brighter from here.
PS – All the images and gifs in this message are from NASA's Earth Observatory program. I mention because you should totally check out ALL their amazing and beutifle videos and images. But also because they're yet another science-based program that (you guessed it) is set to have their budget radically cut by Trump and Republicans in Congress next year. We'd also love your financial support so we can incorporate a C4 arm that can lobby Congress directly, advocate for and against candidates, and more. Next week I'll be sending you more of a roadmap and plan for 2018. But in the meantime, Please chip in to support our work.
Specific NASA images and videos we can't live (or write this post) without:
The entire NASA Earth observatory team:
The coverage of the Thomas Fires in California, in particular

The 2017 Hurricanes and Aerosols Simulation